Use Mock Job Interviews to Land Your Dream Job
By Helen Godfrey, MA, NCC, BCC, LPC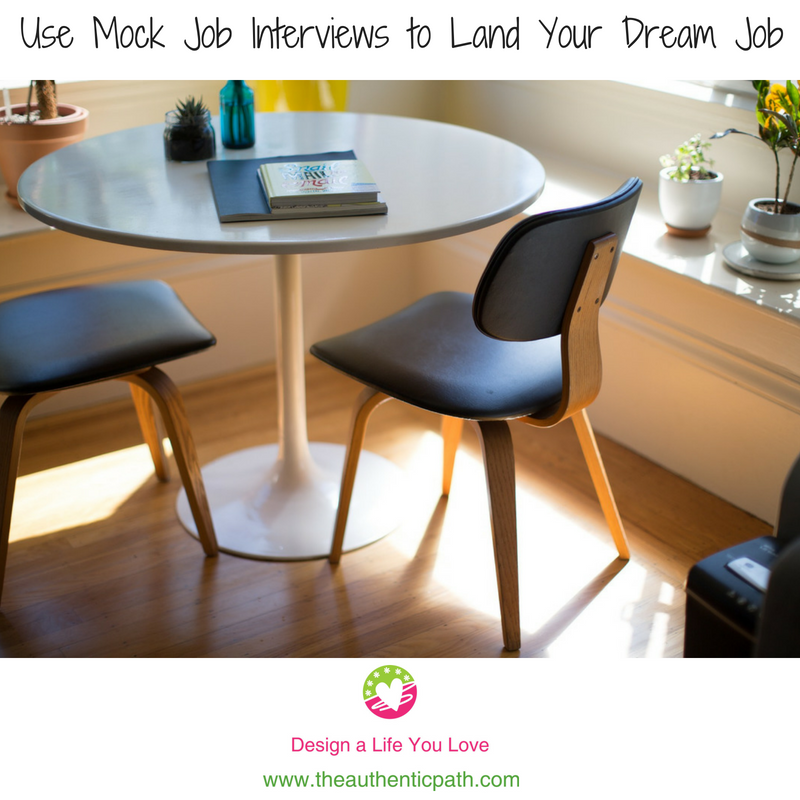 It's natural to feel nervous about interviewing. No pressure but landing this job could change your life. It could set you on the right path for your career. Ok, so that's a lot of pressure, isn't it? So how can you ease some of this stress? For one, you can use mock interviews to increase your confidence and to make a positive impression on a potential employer.
Preparing for a Mock Interview
1. Do your research. Act like you're preparing for the real thing, starting with comprehensive research. Identify the industry and the type of position you want. It may be helpful to use an actual job description from a specific company to keep you focused.
2. Rehearse answers to common questions. Put together a list of questions that are likely to get asked in an interview. Practice a brief opening statement describing your qualifications. Later, you can customize this for each situation. Go over your job history to extract several success stories that demonstrate your abilities. You may find it helpful to use the STAR interview method.
STAR

S=Situation. What was going on?
T=Task. What did you need to do?
A=Action. What exact steps did you take….?
R=Result. What was the result/the outcome?
3. Develop your own questions. Brainstorm relevant questions you can ask to demonstrate your interest and knowledge about the job opening. Find out how industry trends are affecting your potential employer. Clarify aspects of the organizational culture that may not be described in its written materials.
Think about what matters to you in a job. Are you a people person? What does that mean to you? For example, would you like to spend about 85% of your time face to face with others? Perhaps 85% sounds like too much to you. Some people find being around others energizing and some find being around other draining. Where you do fall on the spectrum? Definitely ask questions about that. For example, "How much time, or what % of time, will I be working with others vs. working on my own?"
Think about tasks that you enjoy and ones that you don't and ask about them. You want to make sure you have a clear understanding of the job. Sometimes mock interviews can lead to the hidden job market that is, to jobs that haven't even been posted yet. This is a great opportunity to get the inside scoop without the pressure of being formally interviewed.
4. Choose your mock interviewer carefully. A friend who works in human resources may be an ideal choice. People with a managerial position in your chosen field can also be helpful. Look for someone who can devote adequate time and take the task seriously.
5. Discuss your goals. Have a preliminary talk with the person who's helping you. Share what you want to achieve with them. Let them know that you appreciate candid feedback on your entire performance, from body language to verbal responses. An outside observer can help you identify any distracting mannerisms you may have.
6. Select a neutral setting. Try to hold your interview in the same type of setting you want to work in. If you're looking for an office job, visit your friend's office before work or book a meeting room at a local restaurant.
7. Dress the part. Wear your interview suit. It will help to put you into the right mindset and give your friend a chance to confirm that you're dressing appropriately.
Conducting a Mock Interview
1. Record your session. A video or audio recording provides helpful documentation. You'll be able to see how much you really fidget or how often you insert the word "like" into your sentences. Be sure to ask the person who is interviewing you for permission. It may be less intrusive to only video tape yourself.
2. Repeat as often as possible. Schedule as many drills as you need to get comfortable and competent with the interview process. Ask your friend to vary their questions and approach each time. Keep track of your progress.
3. Work on your greeting and closing. Everything you do contributes to the impression you make on your potential employer. Learn to shake hands smoothly while you're carrying a briefcase. Prepare concise closing statements that sound natural while expressing your gratitude and enthusiasm.
4. Finish up with a debriefing. Review every session with the person helping you. Gather all the advice you can. Write down what you need to work on, as well as the areas where you succeed in making improvements.
5. Watch yourself in a mirror. It's best to train with another person, but using a mirror is the next best thing if no one else is available. You'll be able to see whether you look poised or anxious. Watch your hand gestures and observe your facial expressions. Even if you do have someone to help you, practicing with a mirror is a valuable supplement to your mock interviews.
6. Consider seeking professional advice. If you want to go a step further, you may want to explore the option of working with a professional career counselor.
Additional Resources
3 Fun and Effective Ways to Get Noticed in a Pool of Job Hunters
5 Vital Qualities Every Employer Seeks in Applicants
Examples of Successful Career Goals
How to Turn Your Dream Job into Reality
Networking Inside Your Company
Networking When You Hate Networking
Take Your New Career for a Test Drive
Tips for Finding Your Strengths and Developing Your Expertise