Take Your New Career for a Test Drive First
By Helen Godfrey, MA, NCC, BCC, LPC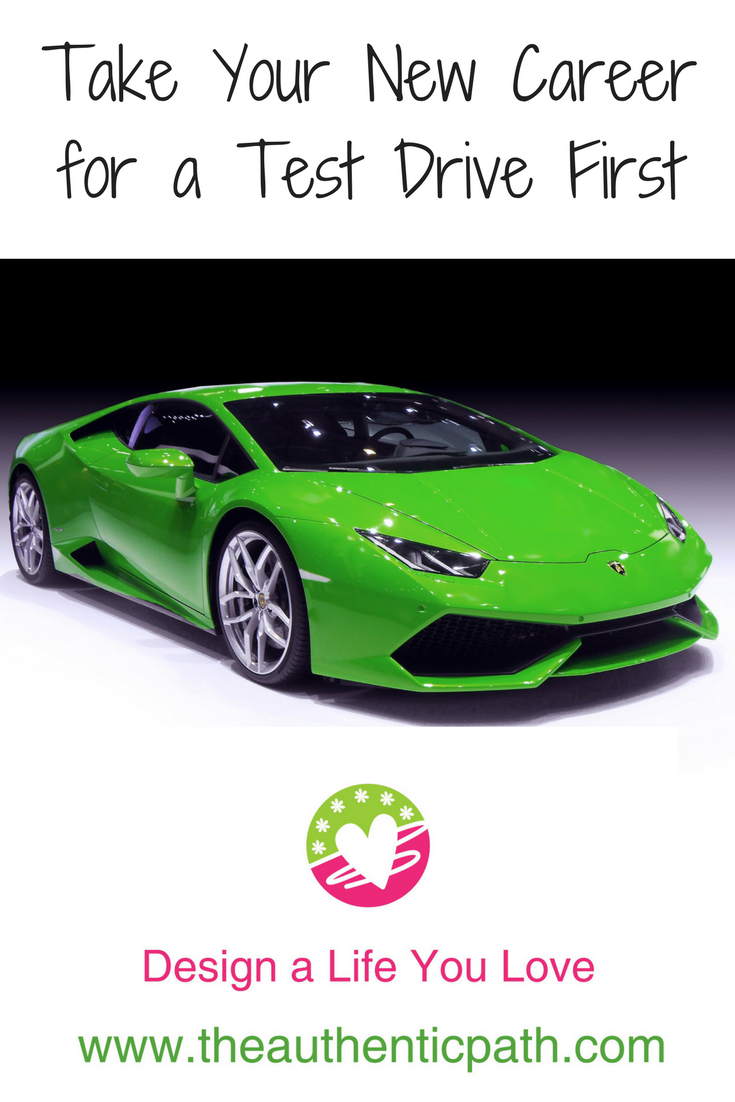 Changing careers can be challenging as you try to deal with potential pay cuts, retraining, and conducting a job search in a whole new field. Reduce your risks with these strategies that will let you try out a new career before you make a big leap.
Ways to Sample a New Career
1. Sign up for an internship or rotational program. If you think internships are just for recent graduates, think again. Many people in later stages of life are now using these opportunities to get on-the-job training and skills for different kinds of work. Programs like AmeriCorps and Encore Fellowships even have special slots for people age 55 or older. Rotational programs are a great way to experience different departments in a company find one that is a good fit for you.
Additional Resources
Google "rotational programs" to find an industry and company that is interesting to you
2. Become a volunteer. Donate your time and services as a way to get your foot in the door and fill in any gaps you may have in your skill set. Ensure you select an organization relevant to your goals. Draft a written agreement outlining your responsibilities and what you want to accomplish.
Additional Resources
Jobs and volunteer opportunities for people who want to make the world a better place: Idealist.org


3. Use your vacation time. Plan your vacation around getting a new work experience. Look for short term holiday positions in retail stores. Register with a temporary agency where you can get assignments for as little as one day.
Additional Resources
Nomad's Short-Term Vacations and Work Abroad Opportunities
American Hiking's Volunteer Vacations
4. Do freelance work. When you're trying to break into a new field, it's often easier to find contract work for specific projects rather than getting hired on a full time basis. For example, if you're a struggling artist, talk with the owner of a small shop you frequent to see if they're interested in using your creative skills to design their window displays. There are many resources online too where you can find opportunities.
Additional Resources
5. Get a part time job. Keep your day job and branch out with evening or weekend work. You'll be supplementing your income at the same time.
Additional Resources
Use Indeed.com with keywords such as:
· Part-time
· Temporary
· Seasonal
· Home based
Flex Jobs for work at home jobs


6. Leverage your hobby. Turn your hobby into a second career. For instance, give your friends a good deal on using you as their wedding photographer. If you're talented and dependable, it may soon become a full time living.
Additional Resources
Learn how to sell on Etsy: Skill Share's Etsy Classes
Sell your photos online:
The Penny Hoarder's List of Places to Sell Your Photos Online
The Work at Home Wife's List of 13 Places to Sell Your Photos Online


7. Rewrite your job description. Take on new responsibilities in your current workplace. Your employer is likely to be impressed with your initiative and you may discover new talents that you didn't realize you possessed.
Additional Resources
Advance Your Career by Making an Internal Transfer
5 Great Tips for Scoring That Dream Promotion
6 Simple Steps to Discover Your Ideal Career
Keep Moving Forward
1. Monitor your budget. You may still find that switching careers will reduce your income at least temporarily. Look for ways to cut your expenses so you can pursue your dreams.
Additional Resources
Monitor your budget for free with these resources:
· The free version of Quicken: Mint
· Dave Ramsey's Every Dollar FreebBudgeting Tool
2. Take an inventory of your skills. Many skills are transferable. If you're good with numbers, you may be able to move from financial planning to tutoring kids in math.
Additional Resources
Discover Your Strengths to Find the Right Career for You
How to Develop a Career Plan That Will Bring You Happiness
Tips for Finding Your Strengths and Developing Your Expertise
3. Continue your training and education. Lifelong learning enhances your job prospects and enables you to stay competitive. Seek out community programs and online resources that may come in handy however your career goals evolve. You may want to check the professional organizations related to your career. They typically have local workshops, meetings as well as local and national conferences.
Additional Resources
4. Broaden your network. Reach out to people from diverse backgrounds. Your hairdresser or another parent at your child's school may become your link to a new career. People love talking about themselves and their career paths. Treat people to a cup of coffee in exchange for career advice. Be intentional about your questions. Ask questions around the type of work you like doing and the work you don't like doing so that you can evaluate whether or not this type of work would be a good fit for you.
Additional Resources
Networking When You Hate Networking


5. Establish references. Think beyond monetary compensation. Some projects may be worthwhile if they help you to meet people who can provide references you can use in your next job search. Many volunteer coordinators will automatically offer certificates or letters of appreciation. Many recruiters use LinkedIn to find talent so it is helpful to have your references post right on your LinkedIn profile.


6. Document your accomplishments. Keep a list of your activities and the results you achieve. Collect work samples to create your own portfolio. In a weak job market, proving your potential to contribute makes you stand out. Make sure you can speak about your accomplishments during the interview.
Additional Resources
Interviewing: Are You Making These Mistakes?
7. Keep an open mind. Above all, think expansively about your abilities and interests and what they suggest for your life's work. Multiple career changes are now a routine part of life.
Additional Resources
10 Things That Require Zero Talent
Clarify What You Want in Life with a Personal Development Plan
Creating What You Want in Life
Discover Your Power by Knowing Your Intentions
In a volatile economy, it's difficult to come up with exact figures, but many experts estimate that Americans change jobs about 10 times and careers as many as 7 times in one lifetime. Think creatively so you can try out a new career first to ensure it fits you.