Post Interview Tips-Do's and Don'ts
By Helen Godfrey, MA, NCC, BCC, LPC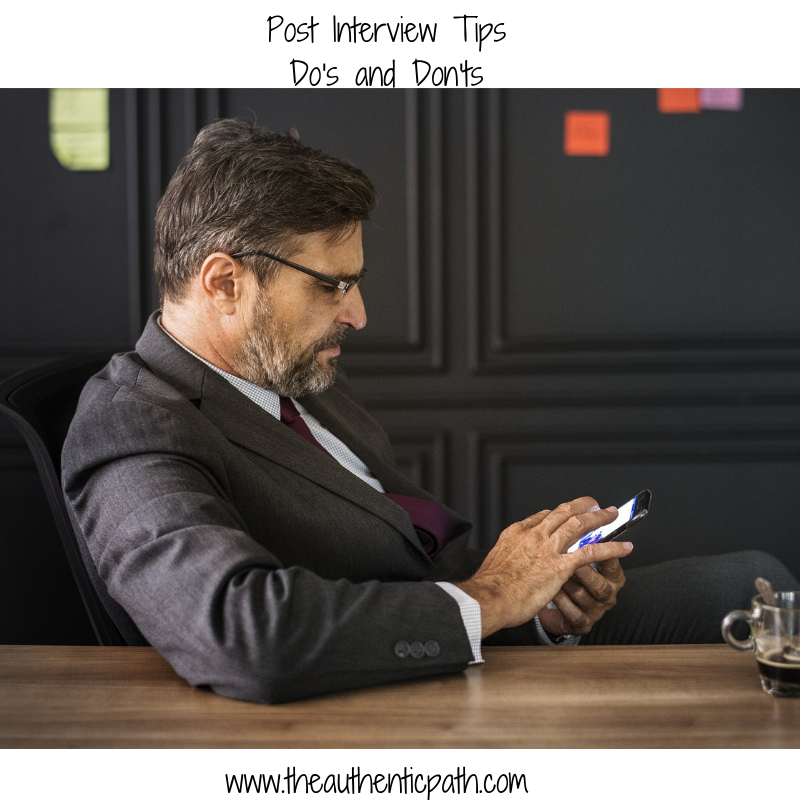 Here are my tips for following-up after the interview.
DO
Write a personalized thank you note
After the interview, make sure you follow-up with a thank you note the same day if possible with everyone who interviewed you. Some applicants like to bring a stack of thank you notes, find a quiet place outside of the location where they interviewed of course, and return to the front desk with their written thank you notes. This is a nice gesture. I wouldn't recommend writing them in advance because you will want to reference back specific topics that will help them remember you from the interview.
In this day and age, an email thank you note is standard and can have some advantages over the written form. For one, when you follow-up, you can forward your original thank you note and then add the new information you want to convey. Depending on the person and the company, they may meet a lot of people so connecting your thank you note to your new correspondence can help jog their memory.
Be gracious
The average person receives over 150 emails per day. If your main point of contact is a recruiter, he/she may be traveling a lot. If he/she is the recruiter for the whole company, this may include entire days of networking events and interviews. All of that to say, if you don't hear back in a timely fashion, say something along the lines of, "I know that you are extremely busy...." and attach your original email to the new one. If you didn't ask during the interview about their hiring timeline, this is a good time to ask.
Let them know if you've accepted another offer
Once you accept another offer, let your point of contact know. Once you accept an offer, you should cancel all other interviews and plan to stay at the company for at least 1 year.
DON'T
Follow-up more than 1x per week
The company needs to hire a qualified applicant as much as you need a new job but following up too much won't impress the hiring manager. If you have another offer but you really want this job, that is another story. If that is the case, let them know that you have another offer and you have to let the other company know by, fill in the date. Let him/her know that you are really interested in this position and briefly reiterate the reasons.
Only use one form of communication
In spite of the great advances in technology, things happen. You leave a voicemail and, you don't know this happened, but your cellphone cuts out and they can't hear your name or number. Funny things can happen with email too. It's a good idea to alternate the forms of communication you use just to make sure your message is received.
Call without leaving a voicemail
This may seem basic but definitely leave a voicemail with a brief message to give the listener context. For example, "My name is.... . I am calling to follow-up about....Please feel free to call my cell phone at....I should be available to talk today between 1pm-5pm or feel free to leave me a message. I look forward to hearing from you."