Networking Inside Your Company
By Helen Godfrey, MA, NCC, BCC, LPC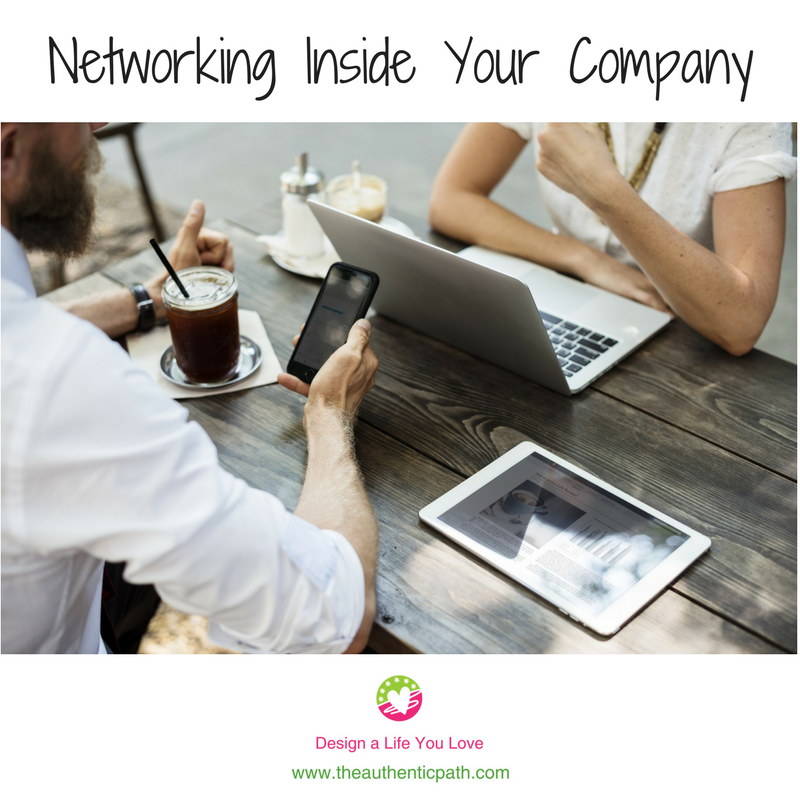 The internet makes it so easy to connect with someone in Kuala Lumpur you may forget about the guy in the next cubicle. However, the colleagues who work by your side each day provide some of the best opportunities for developing close friendships and gaining constructive feedback to help you improve as a professional.
Boost your job satisfaction and advance your career by schmoozing closer to home. Consider some of these suggestions for internal networking.
Internal Networking for Everyday Situations
1. Lend a hand. Being generous with your time and talents will help you develop strong relationships around the office. Volunteer your services when a colleague is trying to meet a tight deadline; share your expertise on how to close a sale and share knowledge across the office. Of course, make sure you are able to manage your primary job responsibilities and deadlines before you take on too much.
2. Take initiative. Cultivate a reputation for going the extra mile. Earn trust by being a top performer. You may find this article helpful because it covers essential choices that will help you develop a strong, professional reputation and they are all things you can learn:10 Things that Require Zero Talent
3. Speak up. Conflicts rarely resolve themselves. Talk issues over promptly and tactfully before they grow into more serious clashes that can undermine goodwill. Have at least one friend outside of the workplace who you trust so that you can sort through the heart of the issue from your end. You may want to enlist the help of a coach or counselor. Practice role playing the conversation with your friend or coach/counselor keeping the personality of the person you are having difficulty with in mind. What might he/she say? Is there a better or more clear way you could phrase your thoughts? Here are some good books that may be helpful to you as you navigate through these difficult conversations:
· Perfect Phrases for….
This is a series of books that I think you will find very helpful.
· Crucial Conversations by Kerry Patterson and Joseph Grenny
· Resolving Conflicts at Work by Kenneth Cloke and Joan Goldsmith
4. Communicate face to face. While it's quicker to text or send an email, face-to-face discussions have many advantages. Make sure you check-in to see if you've caught him/her at a good time and let him/her know approximately how much time you need. Meeting in person is a great way to build your relationship. Many times, your initial reason to reach out to your colleague will lead to learning more about him/her and you may develop a friendship. People naturally help people they like so this can actually help you be more efficient in the work place and happier too. Isn't it nice to work with people you like?

5. Listen closely. Give others your full attention. Make eye contact. Don't continue to type while he/she is talking. Take notes if needed. If it is not a good time, let him/her know that you are in the middle of a project and see if you can come by later to discuss. Pick an approximate time that works for both of you. Your colleague will appreciate your interest, and you'll learn more about him/her. This knowledge will help you ask relevant questions and avoid misunderstandings.

6. Share a laugh. Lighten up. A joke or funny comment can relieve stress and make your colleagues look forward to having you drop by. Be friendly to everyone in the office. Stay away from office politics and gossip for long term happiness. Again, having a close friend outside of the office can be a great source of support to sort through your thoughts and frustrations so you can leave those outside of the office.

7. Eat together. If you're usually swamped with paperwork or phone calls, take advantage of your lunch hour. Spend a half hour in the break room; invite the whole department to try out a new yogurt shop or form a walking group.

8. Show you care. Simple gestures can show your coworkers that they matter to you. Remember their children's names. Tell them that you hope they're feeling better when they return from a sick day.

Internal Networking for Special Occasions
1. Mingle at office parties. Maybe you have a position where your interactions are limited to the same few people each day. Use birthday parties and summer picnics to extend your circle. Chat with a peer in another department. Volunteer for committees where you will get to work with people outside of your immediate group.

2. Bond at retreats. Corporate retreats provide an opportunity for profound discussion and silly games. See your coworkers from a new angle and keep your relationships going by gathering the group together for a coffee or an event after the retreat.

3. Participate in staff meetings. Staff meetings will fly by more quickly when you take an active part in the proceedings. Thank the accounting department for explaining the new timesheets. Share what you learned at the summer conference a business roundtable and invite others to reach out to you for more information.

4. Ace your orientation. If you're new on the job, ask your supervisor to point out stellar employees you can emulate. Make them a top priority for your internal networking. Treat them to coffee and ask for advice on how to best succeed in the organization.

5. Greet new hires. If you've been on the team for a while, go out of your way to welcome the newcomers. Your extra efforts will stand out when they're trying to memorize a ton of new names and faces. Plus, teaching is a great way of learning, so you may pick up a few pointers as you guide them around.

6. Transition gracefully. While you'll probably move on to another organization eventually, your last days can be a productive period when you adapt your relationships to changing circumstances. Exchange contact information and make specific plans to stay in touch instead of counting on having lunch someday. Create a training manual of your job if appropriate. The new employee will appreciate the information and you will most likely leave a good impression with your manager

There's much more to networking than handing out business cards. Connecting with colleagues inside your company can be just as important as participating in any trade show or Meetup group. Building genuine relationships with your colleagues will strengthen your network and make your work more meaningful.