Are You Making These Interview Mistakes?

by Helen Godfrey, MA, NCC, BCC, LPC
www.theauthenticpath.com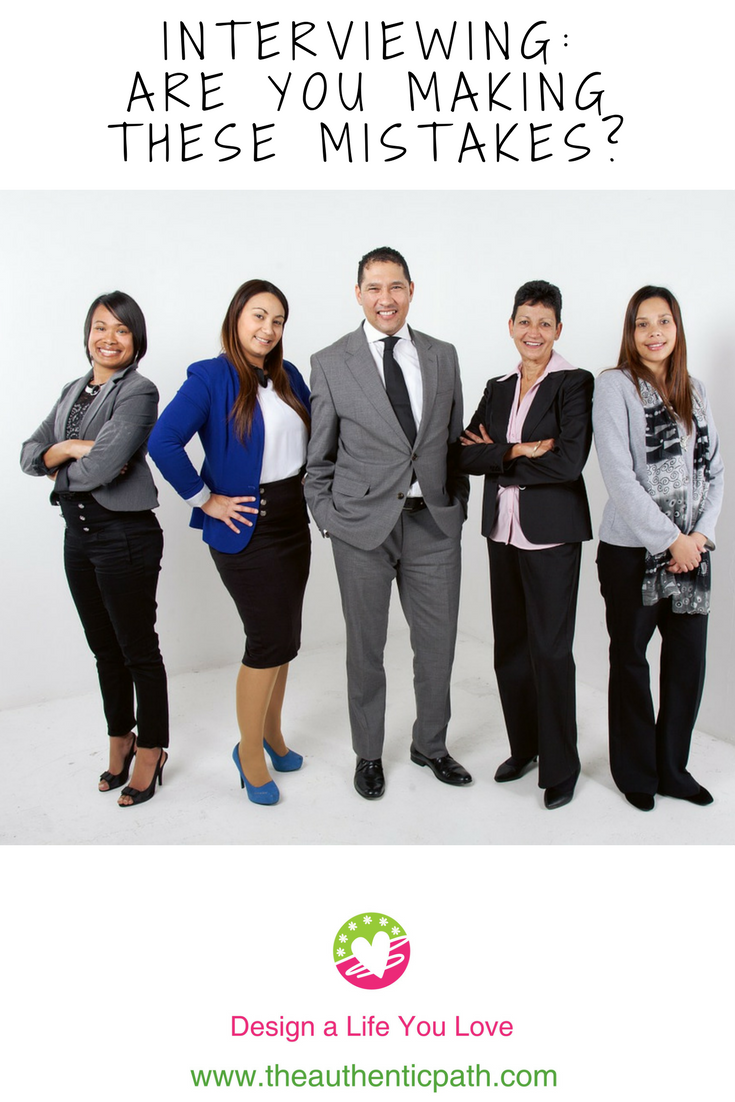 If you haven't been on the other side of the desk interviewing people, or even if you have, it is easy to make mistakes that can kill your chance of landing your dream job. How does it happen?
Maybe you have never had a formal interview
It is not uncommon for people to work and go to school. "I've gotten jobs before," you think. Well yes, yes you have and good for you. However, now that you are out looking for a more competitive role, the questions are going to be more in-depth. In fact, if I may be so bold as to guess: each new job that you interview for will require more skills and expertise. That is probably at least one reason you are looking for something new.

You are nervous...and unprepared
I have experience both sides: being that unprepared applicant long before I was a career counselor, and, throughout my career, I have interviewed more people than I can remember some for jobs and some who wanted help to prepare for their interview. I have to say: If I had a dollar for every client who told me: "I don't need any help with interviewing skills. I want to be myself...I want to be natural."You know the rest....Anyway, sometimes, just for fun because believe me, I am much more fun than the panel of people who are staring you down and wondering why you wasted their time..... I will ask, "So, why do you want to work for ABC company?" "Umm...uh....hmmm... ." Yikes. Don't confuse practice and preparation with being inauthentic. Do you take a test without studying? Do you run a marathon without training? If so, how did that work out for you? There is a lot at stake. Even getting an interview is a huge accomplishment. Make sure you are your most prepared, happy, shiny self. When you practice your interview skills, you WILL be authentic because fumbling for words, being nervous, drawing a blank...none of those responses really showcase your best self, do they?

You didn't do your research
This may seem basic BUT: Do you know what job you are interviewing for? Full disclosure: right out of grad school I was interviewed for a different job than the one I had originally applied for...I did not get the memo. Basically, I had applied for a career counseling job and they decided to interview me for an event planner job for the international student office. Apparently, they had filled the first job and because I was flying in from out of state on their dime, they decided to interview me for another job. The only problem was that no one told me and, understandably, I didn't even think to ask. I found out towards the end of my interview when someone asked me what types of international festivals would I like to plan. I was definitely confused because the question was so specific and that prompted me to ask if I was interviewing for the career counselor position. Confused but good-natured glances were exchanged. Oooops. These things happen. A good rule of thumb is to ask for the most recent job description a week before the interview just in case there are updates to the job description or, in my case, you are being considered for a completely different role.
Confirm the role you are interviewing for and know the reasons you are interested in the company and the role. How is the company's mission aligned with your values? What types of tasks do you enjoy doing? Link your past experience to this current role. Give concise examples that demonstrate your skills, abilities and interest in the role.
Here is a funny and probably true video from Fast Company, "How You REALLY Sound in an Interview":