Informational Interview Questions
By Helen Godfrey, MA, NCC, BCC, LPC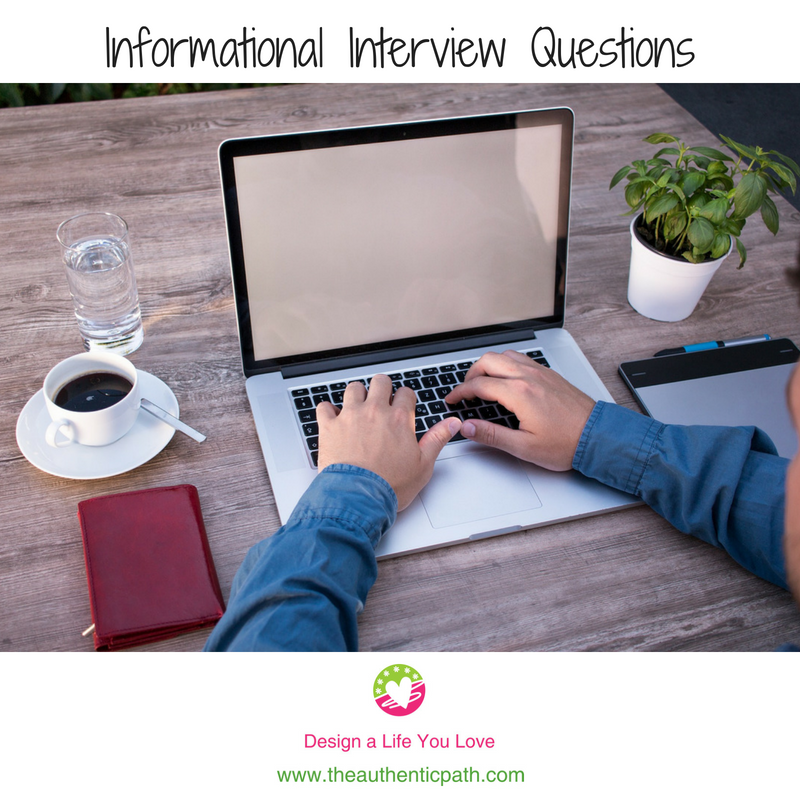 If you are making a career change or, perhaps, you are a student who is debating between a couple of majors and/or job titles, informational interviews can be an effective way to get more information about your future career. The wonderful thing about informational interviews is that you are simple asking for advice. If you are looking for a job or internship, an informational interview can pave the way to the hidden job market.
If you invite someone out for coffee, and this is what I would recommend initially because it is budget friendly and you can easily choose to either wrap up the meeting or keep it going, be sure to bring a padfolio with your questions. There are some people who will talk until Sunday if you ask them one question and others who are not as talkative. You want to be prepared for both.
Of course, I don't have to tell you this but, be sure that you treat (pay for) whoever is taking time out of their busy day to give you advice. I promise that I don't work on commission for Starbucks but I think the free Starbucks rewards card is worth getting. You can earn free drinks and free food which can help your budget. Those $8 coffees can add up. It also makes it less awkward when you are at the cash register. They can just swipe your card.
After you have had a presumably good meeting, I would say to your new contact, "You've been so helpful. Do you know anyone else I can talk to?" This is an easy way to build your network. Be sure to follow-up with a thank you email and make an effort to stay in touch. Just like any relationship, it will be gradual.
So where do you find people who are willing to give you advice about their careers? I highly recommend www.linkedin.com/alumni where you can sort alumni from your alma mater by location, industry and more. In addition, professional organizations are a great way to make relevant contacts. Here is a list of networking groups in Houston, Texas: http://www.theauthenticpath.com/networking-in-houston-texas
Here are some sample questions to get you going. In addition, I would recommend coming up with more personalized questions. If you've done a career assessment, you can center your questions around your results because, even though you may not know a lot about the job, you will have a good understanding of who you are and what you want so your questions can be both thoughtful and targeted. Here is some more information about the 2 career assessment tests I offer: http://www.theauthenticpath.com/career-assessment-tests
What is the work environment like?
Is the schedule flexible?
Which industries hire (example) Instructional Coordinators?
What are some other related job titles?
What do you like the most about your job?
What do you like the least about your job?
What is your educational background?
What are the best programs/majors for this type of career? Are there certain criteria I should look for? (i.e.-accreditation, etc.)
How many years is a typical program?
How is the job market for this career? Is it easy to find a job?
Do most Instructional Coordinators work for a company or freelance?
Is this an independent job or a job that usually has a supervisor?
What can I be doing now to start preparing for this type of job? What do hiring managers look for when they are evaluating Instructional Coordinators?
Is there a good job that would make transitioning into this career easier?
Do most Instructional Coordinators work on a team or alone?
Does anyone do Instructional Coordination for the arts? If so, how did you get your start?
If I want to be an Instructional Coordinator for a hospital, for example, is a background in the industry necessary or is this something I can learn and research along the way?
Additional Resources
5 Vital Qualities Every Employer Seeks in Applicants
6 Simple Steps to Discover Your Ideal Career
Advance Your Career by Making an Internal Transfer
At a Professional Crossroads? How to Chose a Path That's Right for You
What Should I do with my Life?
Discover Your Strengths to Find the Right Career for You