How to Market Yourself When You're Looking for a Job
By Helen Godfrey, MA, NCC, BCC, LPC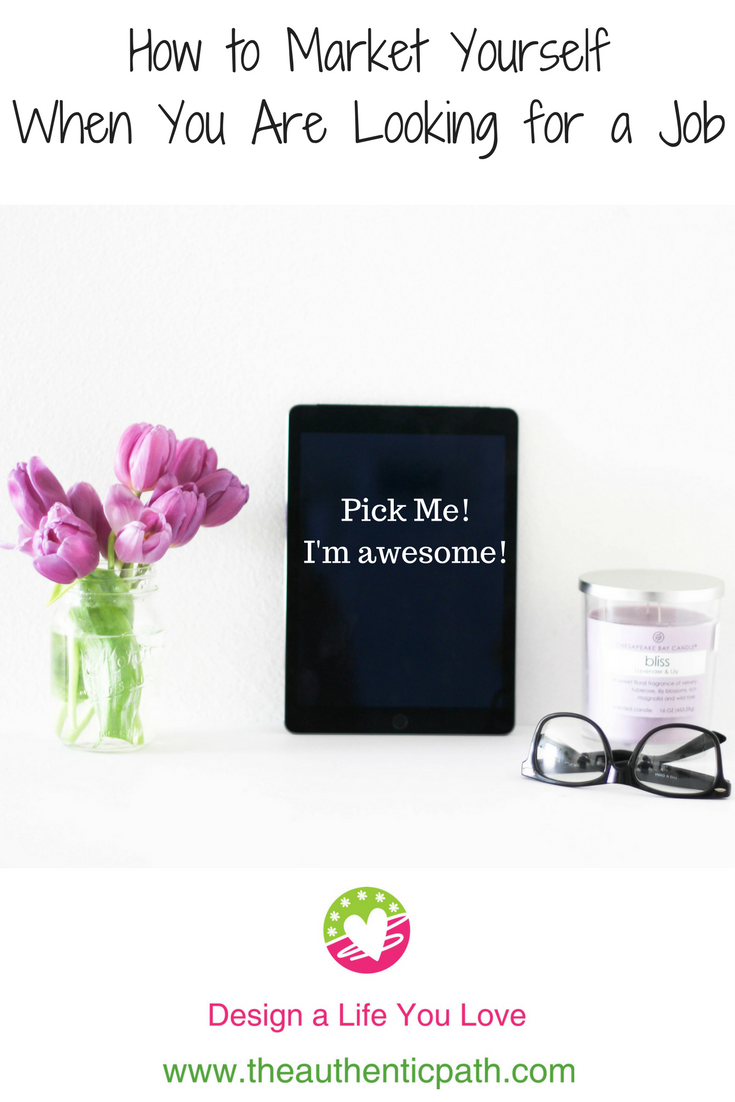 I don't know anyone who enjoys looking for a new job, do you? It is hard and can be even more difficult if the economy is down. The good news is that effective marketing can set you apart from other candidates if you know how to properly promote yourself.
You might have more relevant skills and knowledge than other candidates in your field, but unfortunately, if they are more effective at marketing themselves, they might have a better shot at the job. The system is not always fair, but if you play your cards right, you can end up landing your dream job.
Doing Your Homework
When you're looking for a job, be organized and prepared. Do your homework first. Determine the specific jobs that you'd like and whether or not you currently have the proper skill set to apply.
If you don't have the skills, you may be able to find a program where you can get specialized training to develop them. If possible, try to attend in-person training sessions so that you can network with people who are also working on improving these particular skills. They may already be employed which a valuable opportunity for you can be to ask them questions about their jobs and the company culture. Remember: Don't ask a complete stranger for a job. Just ask for advice. Everyone can give you advice. It is extremely rare for one person to make a hiring decision. Most companies have a hiring committee so focusing on building a relationship with your contact may seem like the slower route, but it is actually the more beneficial way to go long-term.
If you do have the required skills, start working on your resume in order to highlight the specific ones that pertain to the job you want. Many recruiters hire for a wide range of positions. If your resume doesn't look like the job that they are hiring for, your resume may be passed over.
In addition, do your research on the company where you're applying. When you are writing your cover letter, connect how the company matches the qualities that are important to you. For example, if you like volunteering in your community, you may want to mention that you volunteer, and you see that the company you are applying for supports ABC cause. You may want to connect some of the skills that you gained from volunteering and relate them back to the job in question. Potential employers will be impressed with your knowledge of the company and know that you're serious about getting the job.
Marketing Tips
When it comes to marketing yourself, there are specific things you can do to make yourself more attractive to the company. Some of them are more subtle than others.
Try using the following tips to effectively promote yourself:
1. Tweak your resume. Your resume is clearly vital when it comes to landing a job. Imagine it as though it is an easy to read marketing brochure that describes what you've done in order to prepare for the specific job. Customize your resume to include items that are specific to the job for which you're applying. In fact, employers prefer that you keep it simple and on topic. Usually, the rule of thumb is to go 10 years back at the most. Stick to 1 page if possible. If you have a Masters degree or a lot of experience, you can go to 2 pages. Again, consider whether or not the information you are including is clearly related to the job that you are currently seeking.
2. Come dressed for success. I am certain that all of you will shower the day of the interview but it is worth mentioning. Shower, deodorant, no perfume and minimal jewelry. Many people have allergies and, depending on where you interview, it may be a small room. It is highly unlikely you are the only interview of the day so you can imagine that, for the recruiter, 12 different kinds of perfume and cologne going in and out of a tiny room may not be ideal. Always pay close attention to what you wear because this is certainly part of the first impression you are giving your potential colleagues and manager. Invest in a black or navy suit and a couple of shirts and ties, if applicable. Your choice of outfit says a lot about you. Wear comfortable yet professional shoes. Dressing for success increases your chances of landing the job.
Full-disclosure, I do not work for Macy's nor will I make any type of commission by saying this, however, from personal experience, I highly recommend them if you are not a fashionista. Go during a week day, let them know you are on a budget and that you need help. I was very pleased with the advice I received and the suit as well as the blouse they helped me pick out. Feeling good about your outfit is definitely a confidence booster.
3. Be ready to nail the interview. At the interview, smile and stay as relaxed as possible. Make sure you have a firm but not a bone crushing handshake. Don't have dry, sandpaper hands. Be nice to everyone you meet. I know you wouldn't do this but maybe you can pass this message along to one of your friends who might need it: Don't fight over a parking place once you reach your destination. The person you are fighting with may be your interviewer. This has happened before, no joke. Remember, the employer is not only looking for someone who is knowledge in the field but, also someone who will fit in with the team. Technical skills are easier to teach than the soft skills. If you show that you are open, enthused and interested in the job, employers may overlook your lack of skills. If there is a particular skill that you don't have experience with, do try to take a class if this is typically needed in your field or, if it is specific for this particular job see what you can find out even if it's just the basics. I am always amazed at the quality of information on YouTube.
4. Remember that you're always a student. Be humble, without selling yourself short, when you're looking for a job. There's always something else you could add to your skill set to compliment your current skills. Being able to easily cross train might set you apart from your competition.
5. Check your own internet sources. "Google" yourself to check on what public information appears on the net about you. If there's something you might not want potential employers to see, find out if you can have it removed. Even though Facebook is "private" you never know who knows who… . Update your settings on Facebook so that you have to approve items your friends want to add to your timeline.
6. Come prepared to share new ideas. Before the interview, practice being in the "hot seat" with a friend where he/she quizzes you on typical interview questions and scenarios that are relevant to the job you are seeking. Practicing your answers out loud before the interview will warm you up and make you feel more comfortable to share your ideas during your interview. Some applicants come to the interview with a 30, 60 and 90-day plan with the caveat that the plan is based on what he/she understands about the job. When you do this, it shows that you're willing to go the extra mile and think creatively.
7. Explain what sets you apart. If you're given the chance, explain what sets you apart from your competition. How do you explain this? By giving specific examples. If you just say, "I'm a team player" no one knows what that means to you. Walk the interviewer through a scenario by using the STAR interviewing method. It's a great way to really sell yourself to the employer as well as for you to stay focused on your point. When you tell a story, you know when to start and when to finish. If you are being generic it is easy to meander and not know when to stop talking. This doesn't help anyone involved. Try using the STAR template to formulate your interview answers:
STAR
S: Situation-What was going on? Say enough to give the reader context.
T: Task-What did you need to do? Even if this is a team project, help the listeners understand your particular role.
A: Action-This is the most important part of your story. This is where the employer will pick up on your transferable skills. What exact steps did you take to get to…..
R: Result-What was the result?
A big key to landing the job you desire is by understanding and being able to articulate how your skills/experience are related to the new role, having a positive attitude and, of course, the proper training. Stay organized, calm, and persistent and you'll go far.

Additional Resources
3 Fun and Effective Ways to Get Noticed in a Pool of Job Hunters
10 Things that Require Zero Talent
Informational Interview Questions