Conflict Resolution
Dealing with a Toxic Workplace
By Helen Godfrey, MA, NCC, BCC, LPC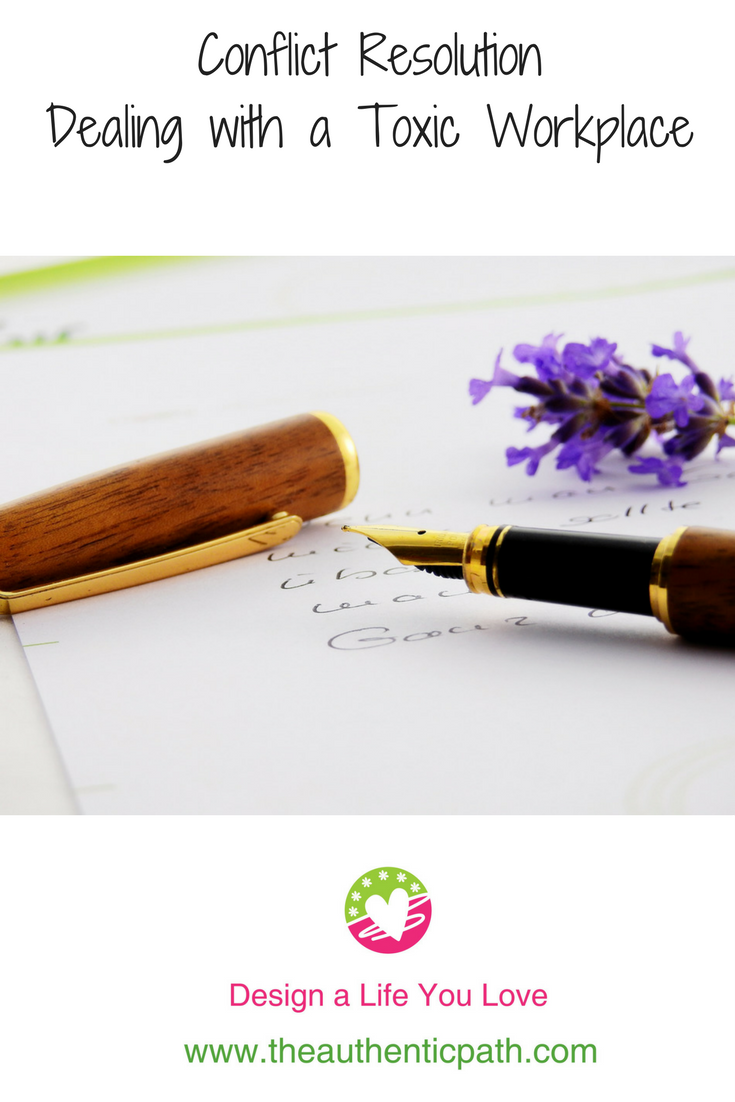 One of my former supervisors said, "We don't leave jobs, we leave people." Think about that. Is this true for you? Think back to the last job you left or outgrew. What led up to you looking for another job? Were you not feeling appreciated? Were you unable to be yourself? Did you have an outright, unsolvable conflict with someone? Studies have shown that employees will stay at jobs that pay less if they have a good manager.
What can you do when you find yourself in a toxic workplace? I went to a seminar and one of the presenters said something along the lines of: You can try to carpet the world or just put on a pair of slippers. In other words, you can only change yourself. It can be annoying to think about that because, hey, you are already pretty awesome. Wouldn't it be nice if everyone just did it your way? Your way is better-you know it is…how long will it take for others to get on board? Don't shoot the messenger but….maybe never. Life amongst the mortals, darling. No one said it would be easy. So, now what?
Evaluate and Prioritize
What are your priorities? Are you feeling impatient because you are not advancing as quickly as you hoped? Try to take a step back and evaluate your current career path. Are you still learning? If not, you may want to talk to your manager about taking on some new/different responsibilities to expand your skill set. Typically, experts say that it takes about 10 years to become an expert in your field. Have you been doing your job for 10 years? Not necessarily in the same place but the same type of job function. If not, depending on the level of expertise needed for this profession…you probably have room for growth. Try to get this in your current location if you like your job. If you want to stay at your job but are not getting the additional skills there, you may want to consider volunteering. Not only will you presumably put some good karma in your bucket-full disclosure: individual karmic results may vary-you can learn, contribute and expand your network which may help you if you decide to move to a different company.
Evaluate Your Company Culture
The culture of any organization is shaped by the worst behavior the leader is willing to tolerate.
-Gruenter & Whitaker
Is this workplace toxic or just annoying? If you feel unsafe to speak up, to be yourself or to make mistakes, these could be indicators that you are working in a less than healthy environment. If your educational background and contributions are belittled by your direct supervisor, you may want to look elsewhere immediately…if not sooner.
I have a friend who was a manager and, with his permission, is allowing me to share his story. He had a very difficult employee who refused to do almost anything that resembled work and he absolutely found the most amazing, Houdini-like ways to get out of work that he agreed he would do but that he did not want to do-which was pretty much everything. To give you some context, the manager would send the employee Outlook invitations for different events that he needed the employee to cover. These were during regular business hours and par for the job. The employee would accept the invitations and then delete them from his calendar. When he didn't show up to the events that he was scheduled to attend he told his manager, "The audience could have come back in a few hours" or "I didn't know about the event." The manager had to start taking screen shots of his employee's calendar to have proof.
When the manager went to his direct supervisor, the director, with proof of these shenanigans-too many to describe in this article- much to his surprise, she blamed him. Hmm. In fact, she said the issue was his managerial style. Any small complaint from the difficult employee was taken very seriously by the director. In fact, she encouraged the difficult employee to keep going directly to her-not keeping his manager in the loop about their conversations. Do you remember the movie Office Space? More specifically, the scene with HR where one employee describes his contributions to the company: he gives them examples of going above and beyond the call of duty, working overtime and so on. Well, he is fired. The second employee who goes into great detail about slacking off at work is promoted. It's funny when it is a movie but in real life…not so much.
So, if you have a manager who undermines your authority and you are honestly doing everything right and to the best of your ability, you will probably need to look for a new job pronto. In fact, I would recommend looking immediately especially if you know that you have done everything in your power to work out the difficult situation you are facing. It is highly unlikely that your manager or employee, especially if he/she has the support of your manager, will change.
What are Your Deal Breakers?
Again, observe the behavior. What are your deal breakers? What are your values? If you are a manager ask yourself: Is your employee's behavior acceptable? Are these growing pains? Is there a way we can communicate more clearly? Is the employee coachable? Do I have my direct supervisor's support? If you answered "no" to these questions, seriously consider your choices. If your direct supervisor undermines your authority, is there another layer of support that is accessible to you? For example, some HR departments offer mediation for employees and managers. If you have exhausted all of your possibilities, your best choice may be to find another job.
Something else to consider is the amount of physical stress a toxic workplace can have on the body. According to an article in The New York Times, the most number of heart attacks happen on Monday mornings. You have choices and you don't have to stay in a toxic workplace.
Go Where You are Loved
The Oscar award winning actress Ms. Lupita Nyong'o was interviewed in the September 2016 issue of Oprah magazine. She was asked about the best advice she's received and she said, "Go where you are loved. People who see the best in you bring out the best in you." These are wise words and I couldn't agree more.
If you are working in an environment where you are not supported or appreciated, it may be better to look elsewhere. Of course, be self-reflective and ask yourself:
What can I do to improve my situation?
How am I contributing to the problem?
How am I contributing to the solution?
Do I need some additional training?
Is there anything I could be doing better?
What is my ROI on this situation? Will I learn and grow?
If you have done your best to improve your situation and nothing is working, take Ms. Lupita Nyong'o's advice: Go where you are loved. You will be so much happier for it and so will everyone around you.
Resources for Dealing with Conflict
Resolving Conflicts at Work: Ten Strategies for Everyone on the Job by Kenneth Cole and Joan Goldsmith.This is a great book with a lot of useful dialogues which will teach you some basic conflict resolution skills. Also, I love the Perfect Phrases for....series.
Perfect Phrases for…..
This is a series of books that you can find on Amazon with helpful phrases for difficult situations.