Bored at Work?
How to Get Excited About Your Job Again
By Helen Godfrey, MA, NCC, BCC, LPC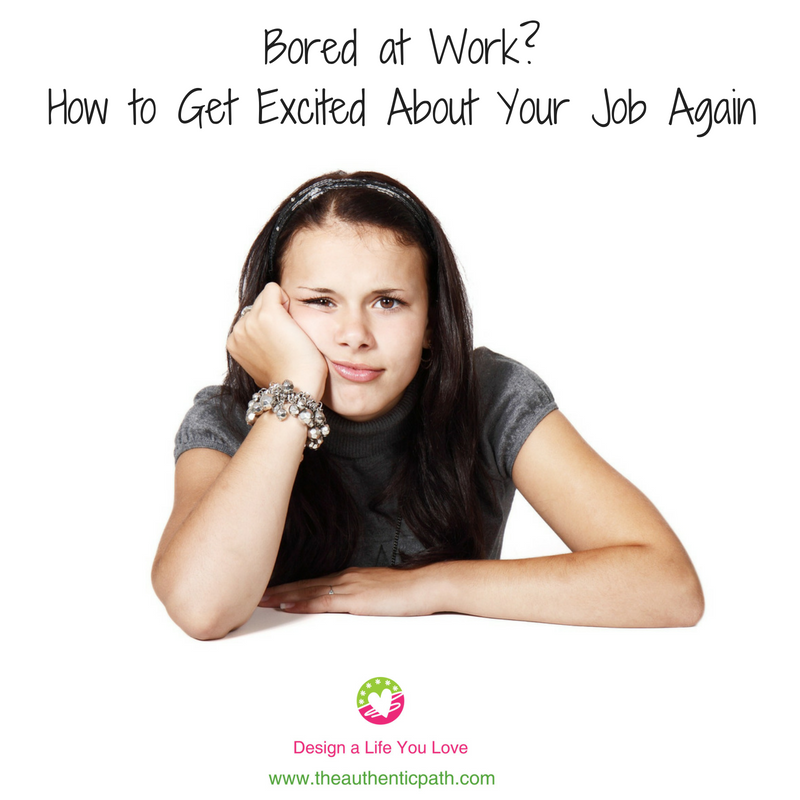 Do you remember how happy you were about your job when you first started? In all likelihood, some of that excitement you first felt probably waned as your daily tasks became routine. Right now, you may find that it is difficult to even feel motivated at work.
But what if you could feel that excitement all over again?
Knowing how to stay interested and motivated throughout the ups and downs of your job can be one of the most helpful skills you can acquire in your career.
Try these tips to find some inspiration at work:
1. Find something that sparks your interest. When you have an interest in something, you're more likely to enjoy the time you spend doing it. Do whatever's necessary to peak your interest in a topic.
For example, if the boss wants you to develop a brochure for a trade show, benchmark other trade show brochures. See how others in your industry design their brochures. You could even reach out to a colleague to get some feedback. Give him/her 3 choices of your ideas and put it out for a vote. You could even ask the office to vote and give specific feedback. This may be more challenging and interesting for you when you go out of your comfort zone.
2. Discover new knowledge. Whenever you learn new information, you become more skilled at what you're doing. As your expertise grows, you can be more marketable in your career, and that's definitely a good investment in your future.

To stay motivated, adopt a pattern of continuous learning. When you find new information related to your goals at work, you can increase and continue to cultivate your skills. You will be more compelled to move forward in your work when you are learning.
There are many ways to stay up to date on new trends in your field. Check out the national organization for your profession and see when they have their national conference as well as their online options. Most organizations offer online, professional development webinars which are generally pretty affordable. Your manager might even be willing to pick up the expense for you. Most companies appreciate self-motivated employers who want to learn and are willing to invest in them. It is extremely expensive to hire a new person so holding on to good people is advantageous to the company.
3. Let your creativity flow. Whenever focus your interest on your job, wonderful things can happen. Creativity sparks your imagination to do tasks in new ways and implement innovative processes that make your job seem new again. What is a new way you could do a routine job? Maybe you wait until the last minute and you rush at the end which can be very stressful. Instead of waiting, be try pacing yourself and even treating yourself each time you hit one of the mini-deadlines you have put in place for yourself.
4. Make it your own. On a new work assignment, do your best to come up with a finished product that makes you feel proud. Put your own twist on it. Feel the satisfaction of doing an outstanding job and enjoy the resulting accolades. Try doing some additional research to get the job done a notch above the expectations. You may even want to ask a colleague for advice so that your end product will be even better than what you had originally imagined. In addition to having a better product, you have the potential to become closer to a colleague. Of course, always credit the people who help you. This too will make your relationships at work even better. This process can be a lot of fun and, not only enrich this particular project, but your overall work relationships.
5. Decide you want to be an exceptional worker at your place of business. Strive to develop a name for yourself as the best office worker, insurance agent, proofreader, or whatever it is you do.
When you're at the top of your game, every work assignment that comes your way allows you to show off your skills. Each project you take on becomes part of your personal brand.
6. Ask for help when you need it. Seek assistance right away when you struggle to move forward with a project. This way, you'll avoid feeling annoyed, frustrated and disappointed in yourself.
Nip your obstacles at the bud and move forward with renewed interest in your project. Sometimes employees are afraid to ask for help. This can lead to procrastination and missing deadlines. You don't want either of these choices to be part of your reputation. Just remember, something that you find impossible someone else will find fun. Believe it or not, you might make someone's day by asking for help on this seemingly impossible job.
7. Embrace your work. View your job as an important priority in your life and keep your mind on your work when you're at the office. Leave your bad mood and personal issues at home. If you don't feel happy, fake it 'til you make it. If you are having a lot of issues in your personal life, you may find that your job is a wonderful retreat where you can completely focus on your work and forget about your other problems for a while.
Stay in touch with what you love at work and use it to maintain your motivation.
8. Let your paycheck inspire you. Money motivates most of us and when you work, you get paid. Consciously go down the list of what your paycheck allows you to have. Feel gratitude for each item. Think of specific, happy memories that you created as a result of your paycheck. Imagine the success that you may have in the future because of your unwavering motivation for doing your job. Also, consider participating in activities outside of work to reinvigorate your personal life which will then spill into your professional life.
Re-discover why you chose your career. Use these tips to inspire you and pump up your motivation at work!
If you really can't find your motivation, that is, you don't like most of the tasks you do on a daily basis rather than you are simply in a rut, you may want to consider looking for a new job. You may find some of these resources helpful.
6 Simple Steps to Discover Your Ideal Career
8 Easy Ways to Boost Your Career
14 Things You Can Do This Weekend to Boost Your Career and Still Have Time for Brunch
Advance Your Career by Making an Internal Transfer
At a Professional Crossroads? How to Choose the Path That's Right for You
Career Assessment Tests: What are they? How can they help me?

Discover How Your Hobby Can Advance Your Career
Discover Your Strengths to Find the Right Career for You
How Can a Career Counselor Help Me?
What Should I do with my Life?