5 Office Etiquette Rules Every Employee Should Know
By Helen Godfrey, MA, NCC, BCC, LPC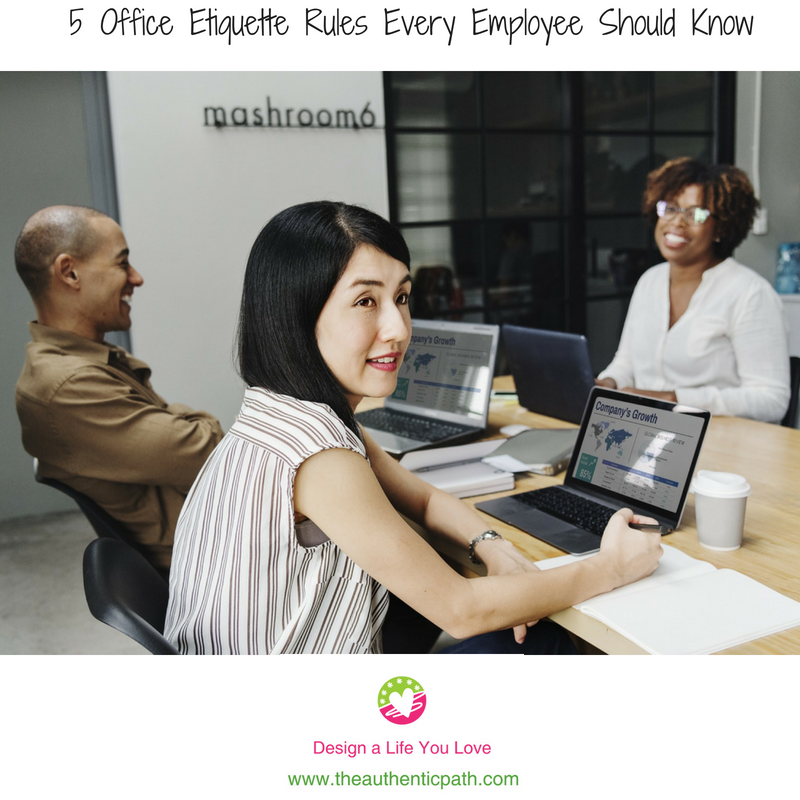 As a top-notch employee, it's important to display professionalism at all times. In doing so, you'll increase your job security, inherently command respect from your coworkers, and impress your boss. And if you follow proper office etiquette, you'll advance your career to new heights of success.
Keep these five office etiquette rules in mind to help you put your best foot forward:
1. Dress appropriately. Always wear clothing that's appropriate for your office. Wear modest, conservative apparel. Dress neatly. Remember that what you wear says a lot about who you are, and you want your clothing to take a backseat to your expertise and knowledge about the job.
Always ensure that your clothes are ironed, clean, and stain-free.
Keep in mind that your grooming habits have a lot to do with the way others perceive you at work. Make cleanliness a priority. Be sure you shower and apply deodorant daily. This is a vital habit when you are working in the United States
2. Respect the higher-ups. You have to earn your respect from the management in your company. Treat those above you with the utmost respect and go above and beyond the call of your job description when appropriate. Understand the hierarchy of the company. Do not take the liberty to go above your supervisor's head for any reason. On the other hand, if you are working on a special project, for example, your supervisor might be ok with you having direct communication with his/her supervisor. In this case, make sure you understand the boundaries and be sure to keep your manager in the loop.
3. Treat your coworkers with respect. Regardless of your personal differences, keep interactions with coworkers cordial and professional. Speak to your office mates the way you wish to be spoken to, and you'll garner the respect of your colleagues.
Make sure you have some trusted friends outside of the work place who give good advice and allow you to vent about your frustrations at work or find a good counselor. Don't engage in workplace gossip or vent about your colleague to other colleagues. This is not a good long-term strategy and can damage your reputation.
If you and your coworker are having a spat, keep a professional tone and demeanor when you discuss the matter with them. Stick to the facts and work on a win/win solution. If a coworker lashes out at you, they'll be the one to pay the price, so keep your cool.
4. Always give your best effort. One of the best ways to stand out from the crowd is to give your best effort from the moment you walk into the door each morning. While others only do enough to get by, you'll stand out from the crowd as a result of your effort.
Be willing to admit when you lack the information necessary to perform a task that's requested of you. Ask plenty of questions. Be sure to take notes so that you can refer back to them when needed. When you do, you'll stand head and shoulders above everyone else in your office.
5. Be enthusiastic. If you wear a smile on your face and speak with a cheerful voice, the people who matter will notice you in your company. If you feel less than chipper, fake it until the feelings follow. Your day will go more smoothly, you'll be more productive, and you'll make a lasting impression on the management of your company.
Above all, strive to provide top quality work each and every day. Do it with a smile, and demonstrate a willingness to go above and beyond the call of duty.
In most workplaces, 9 out of 10 people seek to merely slide by while performing as little work as possible. It's easy to stand out in a positive way when you follow these five tips. When you do, the career success you crave is right around the corner.
Additional Resources
Crash Course in Office Break Room Etiquette
How to Resolve a Disagreement with a Colleague
5 Easy Tricks to Conquer Stress at Work
7 Strategies for Coping with Difficult Co-Workers
Conflict Resolution Dealing with a Toxic Work Place