5 Great Tips for Scoring That Dream Promotion
By Helen Godfrey, MA, NCC, BCC, LPC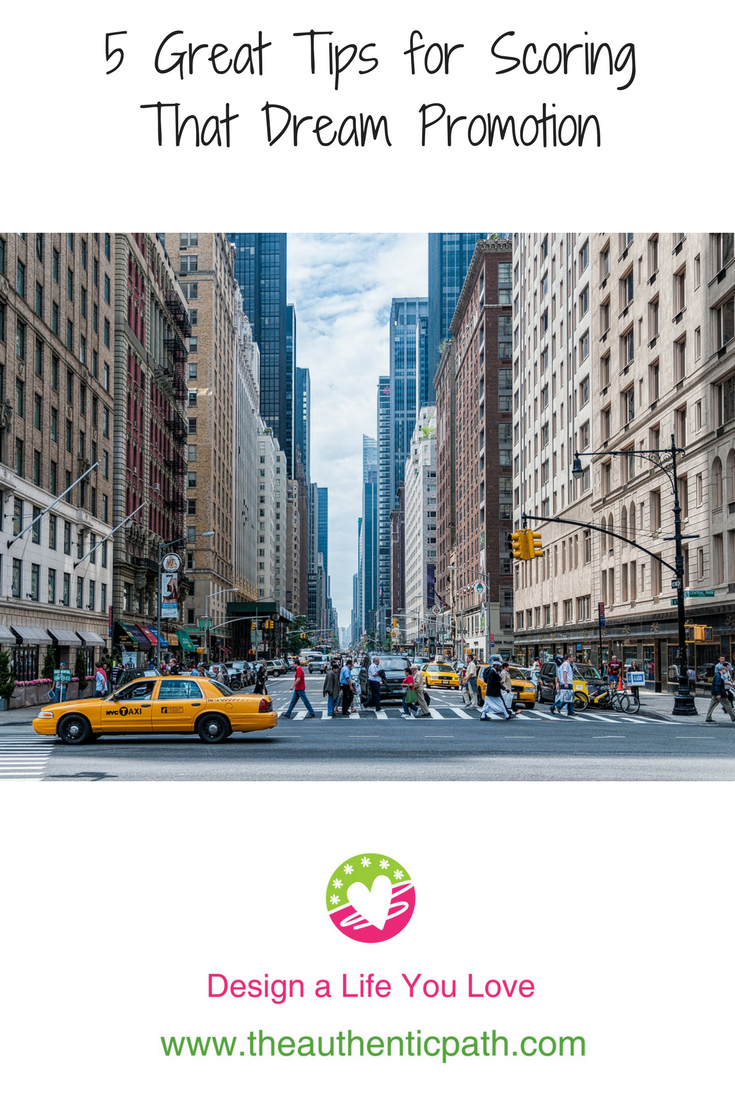 What are your professional goals? Promotion to a high-level manager, then vice-president, and finally, the pinnacle of success, CEO? Working your way and finally getting selected for that position would be a dream come true, wouldn't it?
How can you put yourself in a position to continue to climb up the ladder to these coveted roles? You may be doubtful about whether you have all the qualities the board of directors is looking for, but honestly speaking, you probably already have at least some.
What you may be missing is the know-how to get your abilities and skill sets noticed so you get chosen for the promotion.
Five Tips for Landing the Job Promotion of Your Dreams
In order to be selected over the elite competition in your office, make these suggested actions your priority:
1. Excel at current job. In any organization, employers look at a prospect's current competencies to determine suitability for a promotion. If you have what it takes now, you'll probably have what it takes in the new position. So, your game plan is simply:
· Perform your current tasks to the best of your ability. Details matter.
· Stand out among your peers who are on the same level as you.
· Show versatility and drive by performing an unassigned task from time to time. Make sure you have your supervisor's approval and that you are managing your current responsibilities.
You may find this article helpful. The items on this list make a tremendous different in your professional brand. They don't require talent but they do require skills, which you can learn: 10 Things That Require Zero Talent
2. Achieve recognition. Doing well at your current job is great, but being recognized is how you'll really stand out. That's not to say that your aim is always to be recognized, but it's certainly not going to hurt leading up to the company's decision about a promotion!
Here are some books that may help you learn how to be recognized at work in a genuine and authentic way. The three books with the * at the end are especially designed for a female audience. I believe almost anyone who struggles with appropriate, non-alienating self-promotion will find all of these books valuable.
· Ask for It by Linda Babcock & Sara Laschever*
· Brag! The Art of Tooting Your Own Horn without Blowing It by Peggy Klaus
· Break Your Own Rules: How to Change the Patterns of Thinking That Block Women's Path to Power by Jill Flynn, Kathryn Heath & Mary Davis Holt*
· Lean-In by Sheryl Sandberg*
3. Be efficient. If you're going for a promotion, you'll be receiving increased responsibilities. What that means for you is that you'll have to be able to achieve more in the same amount of time. That's where efficiency comes in, and if you display it now in your current job, that's a plus on your record.


· Start thinking about how you can accomplish the same tasks with the same quality more efficiently.
· Consider color coding your Goggle or Microsoft Outlook calendars so that you can easily understand your day at a glance.
· Set long term and short-term goals. Break them into manageable steps.
· You may also enjoy this website/app which can help you manage your projects. They offer a free version To Doist which you can use across various platforms.
4. Adhere to company policies. By showing your support of company policies, you'll show your employer that you have the maturity and responsibility to handle a more senior position. It's time to start thinking like a leader, and not a follower.
5. Learn about the job. While the board of directors is doing its own assessment of potential candidates for the promotion, it would be a good idea for you to do what you can to learn more about the job you have in mind.


· Ask others in that department or in a similar capacity about the ins and outs of being at this professional level.
· Do research online to gain an understanding of the responsibilities you'll probably have in your new position.
· Spend some time talking to the person who's currently in that position to find out what the challenges are and try to figure out how you would approach them.
Only you can secure the professional future you want and deserve. The decision you make to stand up and be counted is yours and yours alone. Embrace your power and go for it; your dream promotion awaits!