4 Steps to Selling Yourself as the Right Person for the Job
By Helen Godfrey, MA, NCC, BCC, LPC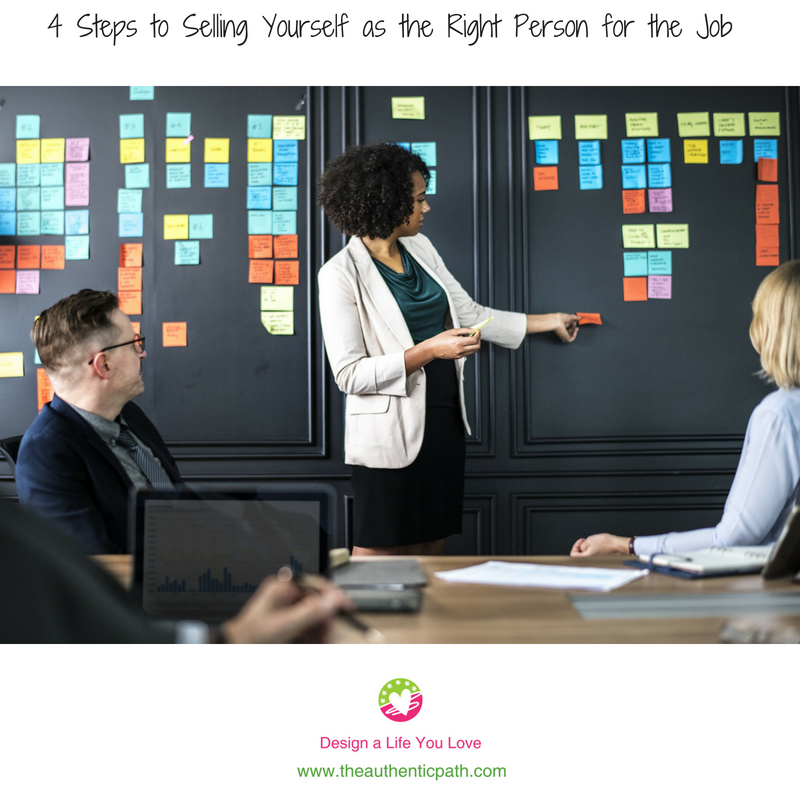 Imagine being able to land your dream job. You've been wanting this job for such a long time and you've finally been called in for an interview. In order to land the job, you will need to be able to sell yourself before, after and during the interview.
Being selected for the job requires finding a way to show the employer the reason you are the best candidate for the job. Hint: employers love candidates who really want the job. Notice I didn't say the paycheck. I didn't say the benefits or the short commute, I said, "Employers love candidates who really want the job." How can you show the employer that you want the job?
For one, think about what you find interesting about the job. What do you think you would enjoy doing? What is it about this particular company that draws you to them? What makes them stand up against their competitors? Why do you want to work for them rather than their competition? Prepare in advance.
I am guessing that you would not only study the night before your final exams or, if you were running a marathon, you wouldn't only train the day before. You would study in advance and you may even take a year to prepare for a marathon. It's the same with interviewing. It does take time and preparation. Start now so that you are always ready for the interview.
Many companies won't give you much notice so it is important to rehearse your answers and be familiar with them long before you get the interview. Giving yourself plenty of time to prepare will ease your nerves and solidify your interview examples in your mind. When you are really prepared with your examples and you know how you are going to answer your potential employer's questions, you will walk in feeling more confident.
Practice these strategies, so when you're called for an interview, you'll be ready:
Focus on immediately usable skills. Naturally, starting a new job means learning about the company and the specifics of the role. All the details and nuances of the job can take months to learn and understand so focus on the skills that the company can use right away. Look at the job description. What are they asking for? What examples do you have that show that you have what they are looking for?
Be likeable. Whether in your written communication or in interviews, it's important to be likeable. That doesn't mean agreeing with everything or being overly chirpy. It simply means having a polite and pleasant demeanor. When you interview, not only is the employer evaluating your skills, he/she is gauging whether or not you will be a good fit for the team. Everyone wants to work with pleasant colleagues.
Practice telling your story. The best way to sell yourself is by giving specific examples. You can pick one adjective but then back it up with a story using the STAR interview method (S=Situation; T=Task; A=Action (make the listener feel like he/she was there one day when you….. and finally, R=Result). You're the best person to tell your stories so listeners are drawn in and get to know you through your examples. Be sure to take some time before the interview to practice your examples/stories for the full effect.
Maintain a positive attitude. At all costs, focus on the positives in every scenario. This includes when you're speaking about your last employer. Work out any negative feelings you have about your past experience before the interview, not during the interview. A positive attitude is an important quality in a potential employee regardless of the job/industry.
Are you organized and able to stay on task? This could serve your new employer well. It shows that you are a structured learner who can readily apply the lessons learned.
What about your leadership background? Highlighting your leadership and/or management experience can indicate that you have good communication skills and can influence others without knowing all the details about each job.
Giving examples of teamwork is a great way to gain favor with your potential employer. It shows that you can work with others and that you're open to others' ideas.
Remember that your interview starts before you even get to the company. Don't cut people off in traffic, that may be your interviewer. Don't fight over a parking place once you get there, that could be your future manager (and yes, that really has happened). Be nice to everyone. Hold the elevator door. Greet the receptionist. Most employers will ask the receptionist his/her opinion. If you go out to lunch, make sure you are polite to the waiter/waitress…. . I think you get my point…. .
Try to have a relaxed body and facial expression throughout the interview. It makes you approachable and shows that you're confident. You may want to run through some practice interviews with a career counselor or even a friend to see if you have any funny mannerisms. For example, do you click your pen throughout the interview? Do you clank your watch on the table every time you are passionately making a point?
Avoid appearing too comfortable. It comes across as unprofessional when you slouch or resort to casual language!
Extend basic courtesies such as asking if your interviewer is doing well. It shows that you are both professional and kind.
What are good examples for an interview? Look at the job requirements and turn each bullet point into a question. What examples can you use to demonstrate how you approach and solve problems? Remember that the question "Tell me about yourself" is really "Why should I hire you?" not an invitation to relive embarrassing but probably funny stories from your teenage years. Another way to find good examples for your interview is to look at all the bullet points on your resume.
Spend some time talking to your friends and family. Share your story with them and get some honest feedback. If you think they'll be too agreeable, strike up a conversation with a stranger in a coffee shop and practice your story.
They called you in for an interview so there is something they liked on your resume. If you turned all the bullet points into questions what stories/examples would you use to demonstrate the points you are trying to convey on your resume? What stands out to you? What skills are you hoping to show the employer?
If the employer mentions something that sounds unappealing to you, avoid openly showing your displeasure. Do ask questions for further clarification if needed. Remember that a positive attitude opens the door for negotiation and meeting halfway.
If you get a challenging question, take a moment or two to think before responding. You can even let the interview panel know that you need just a minute. They won't mind waiting. Remember you're trying to sell yourself!
Landing your dream job can be much easier if you are prepared and if you practice. See how you can implement these approaches to land the job of your dreams. You've got this!
Additional Resources
How to Create an Elevator Pitch Employers Want to Hear
5 Vital Qualities Employers Seek in All Applicants
13 Simple Ways to Shake Off the Jitters Before a Job Interview
Ace Your Next Job Interview by Listening Better
Beginner's Guide to Getting a Job When You Have Limited Experience
How to Ace That Last Minute Interview
How to Turn Your Dream Job into a Reality